Our Commitment to Cleanliness
Your health, well-being and safety are on our minds. I hope you and your loved ones are well supported and even encouraged during this unprecedented time in our world. During these challenging months, we have taken a deep, reflective breath in order to curate an inspired guest experience prioritizing the safety and wellbeing of our entire Dream Inn family. Learn more about the steps below, that we are taking to ensure a safe and comfortable experience for all. From this adversity comes new ways to be together, to share and to continue our work and our passion to provide you with an unforgettable travel experience. We are grateful for your support, and we will be here when you're ready to visit.
For any questions, please call (877) 665-9701 or email us at [email protected]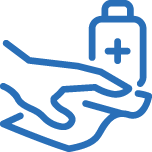 PUBLIC SPACES AND COMMUNAL AREAS
The frequency of cleaning and sanitizing has been increased in all public spaces with an emphasis on frequent contact surfaces including, but not limited to, front desk check-in counters, bell desks, elevators and elevator buttons, door handles, public bathrooms, room keys and locks, ATMs, stair handrails, dining surfaces and seating areas.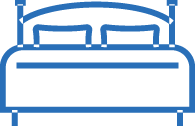 GUEST ROOMS
Industry leading cleaning and sanitizing protocols are used to clean guest rooms, with particular attention paid to high-touch items including television remote controls, toilet seats and handles, door and furniture handles, water faucet handles, nightstands, telephones, in-room control panels, light switches, temperature control panels, alarm clocks, luggage racks and flooring.

LAUNDRY
All bed linen and laundry is washed at a high temperature and in accordance with CDC guidelines.
ROOM RECOVERY PROTOCOL
In the event of presumptive case of COVID-19 in a guest's room, it will be removed from service and quarantined. The guest room will not be returned to service until the case has been confirmed or cleared. In the event of a positive case, the room will only be returned to service after undergoing an enhanced sanitization protocol by a licensed third-party expert.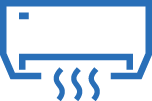 AIR FILTER AND HVAC CLEANING
The frequency of air filter replacement and HVAC system cleaning has been increased and fresh air exchange will be maximized.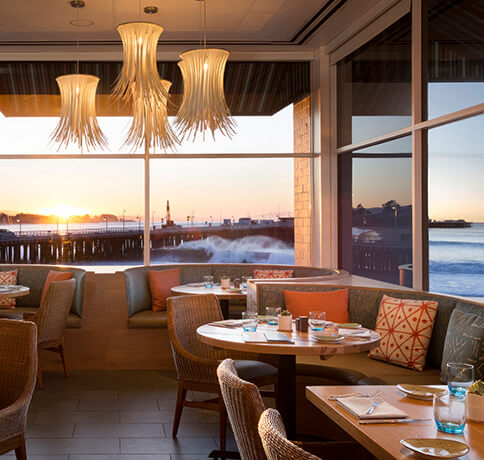 Jack O'Neill Restaurant & Lounge
Host podiums including all associated equipment is sanitized at least once per hour
Service stations, service carts, beverage stations, counters, handrails and trays are sanitized at least once every two hours and logged by a manager
Payment terminals are assigned to a single server where possible and sanitized between each user and before and after each shift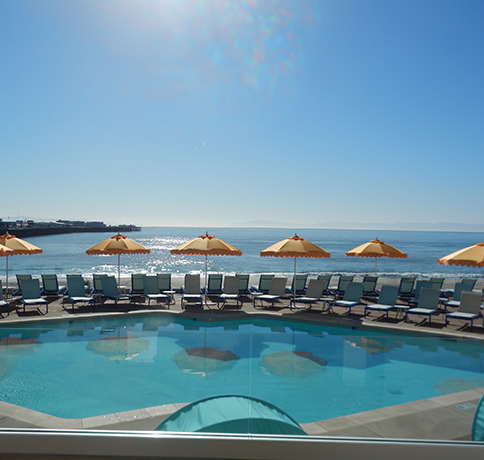 Pool/Pool Deck Cleaning & Sanitizing Protocol
Lounge chairs to be sanitized after each use
Guest contact surfaces to be sanitized after each use
Day beds to be washed and sanitized each morning
Towel desk, entry kiosks and all other desks and counters to be sanitized at least once per hour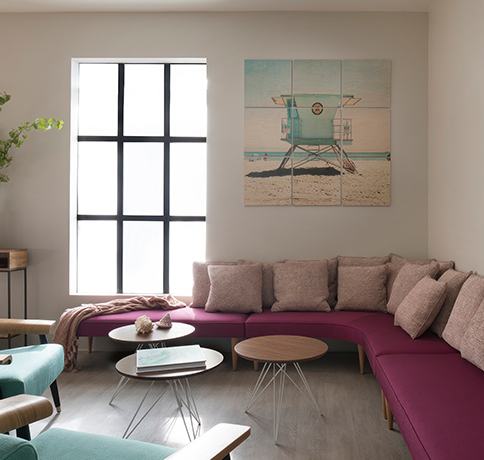 High Touch Objects
We are closely monitoring government policy changes, Centers for Disease Control (CDC) guidelines, government mandates, and health advancements and will continue to make changes as necessary or appropriate to our protocols and procedures. This program has been adopted from systems and protocols set in place by some of the leading hotel brands which developed these guidelines in consultation with leading public health medical professionals and fellows of Georgetown and Johns Hopkins Universities.
Staff Safety Protocols
Dream Inn associates are vital for an effective sanitation and health program. We value our associate's safety and expect our guests, clients, and partners to do the same. Our team is dedicated to guest safety as well as their own, and will proved the upmost attentiveness to the following standards.
Back of the House - The frequency of cleaning and sanitizing will also increase in high traffic back of house areas with an emphasis on the associate dining rooms, associate entrances, associate restrooms, loading docks, offices, kitchens, Human Resources offices and training areas.
Shared Equipment - Shared tools and equipment will be sanitized before, during and after each shift or anytime the equipment is transferred to a new associate. This includes phones, radios, computers and other communication devices, payment terminals, kitchen equipment, copiers & printers, engineering tools, safety buttons, folios, cleaning equipment, keys, time clocks and all other direct contact items used throughout the hotel. Shared food and beverage equipment in back of the house office pantries will be sanitized at regular intervals.
Hand Washing & Hygiene - Correct hygiene and frequent handwashing with soap is vital to help combat the spread of virus. All Dream Inn associates have been instructed to wash their hands, or use sanitizer when a sink is not available, every 60 minutes (for 20-seconds) and after any of the following activities: using the restroom, sneezing, touching the face, blowing the nose, cleaning, sweeping, mopping, smoking, eating, drinking, going on break and before or after starting a shift.
COVID-19 Training - All Associates received training on COVID-19 safety and sanitation protocols with more comprehensive training for our teams with frequent guest contact including Housekeeping, Food & Beverage, and Engineering.
Daily Pre-Shift & Timekeeping - Department meetings and/or pre-shifts are conducted virtually or in areas that allow for appropriate physical distancing between Associates. Larger departments stagger associate arrival times to minimize traffic volume in back of house corridors and service elevators. Hand sanitizer is available at each timeclock location and associates are required to sanitize their hands after clocking in. Our management team ensures constant communication and proper PPE and sanitation procedures are followed and updated per the latest expert guidance