The pool

Dream Inn Santa Cruz Pool
Soak in the sunshine from our newly renovated pool area, with direct access to Cowells Beach. Swim, float or wade in the heated outdoor swimming pool or take a dip in the hot tub. When you are ready, wrap yourself in a plush towel and relax atop a chaise lounge or unwind and enjoy the beach views on a pillow-lined convertible cabana bed. Watch the waves while cozying up to a fire pit or enjoy the sunset from a high-top table. Snack and drinks are served from Shorebreak Drink + Dine poolside bar.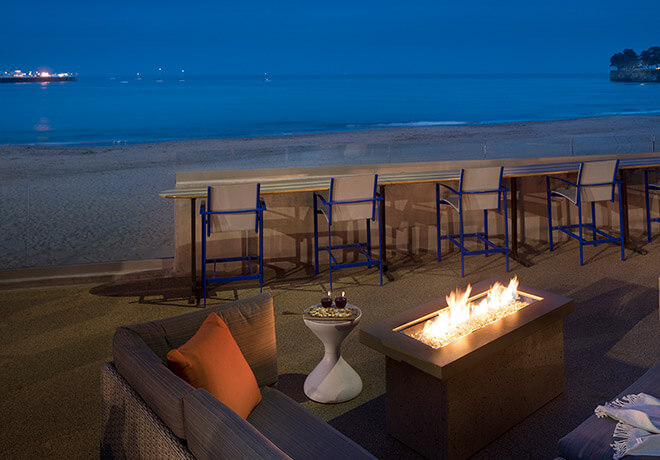 Hours of operation
The Pool is open daily from 7AM - 10PM
Shorebreak Drink + Dine is open daily from 11AM – Sunset
Street Taco Cart from Noon - 4pm
*Offerings are restricted to guests for use during their stay.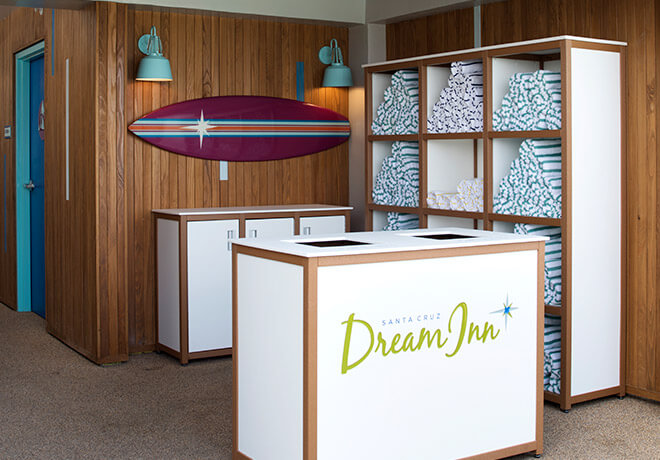 Pool Area Amenities
Oceanfront heated pool – 80 degrees
Oversized hot tub - 104 degrees
Pool Bar- Shorebreak Drink + Dine
Convertible poolside cabana beds
Poolside chaise lounge with umbrella
Pool/beach towels
Propane fire pits (no s'mores allowed)
Restrooms and showers
Poolside high-top and side communal table
Access to Cowells Beach
Policies
Pool use is restricted to guests to enjoy during their stay
Children under the age of 16 must be accompanied by an adult or legal guardian
Outside food + beverage is not permitted
Due to demand, vacant lounge chairs will be reset for other hotel guests after 60 minutes
For your safety umbrellas cannot be moved
19% service charge added to checks not closed out with server or bar
Please ask for assistant when lighting the fire pits